Regular price
$1,097.00 CAD
Regular price
Sale price
$1,097.00 CAD
Unit price
per
Sale
Sold out
The Dandy DT-01XL Lawn Care robot is the first robot designed exclusively to rid your lawn of weeds. Using artificial intelligence and image recognition to identify the weeds in your lawn, the DT-01XL applies a localized spray of a selective herbicide directly onto them.
You will see a reduction in the use of chemicals--up to 90% or more!
The Dandy DT-01XL allows you to use a broad selection of herbicides, from organic solutions (like FeHEDTA) to commercially available weed killers. The choice is entirely yours. 

Our robot's bumper detects fences, walls, and other obstructions, while its camera prevents it from navigating into mulched areas, gravel, and even sidewalks. Using GPS, it plans a route through your yard that enables maximum coverage and prevents it from leaving the areas marked. There is even "stuck" detection so if it does find itself unable to move, it recovers itself.
The app, available for iOS and Android, lets you draw a geofence, including stay-out areas, where your lawns are located, and even pathways between them for the robot to use. It also provides you with heatmaps of weeds, mushrooms, and poor grass health, and can locate the robot and even perform over-the-air updates to it.
The Dandy DT-01XL will care for lawns up to 1 acre (43,560 sq. feet) in size. For smaller lots, see our Dandy DT-01 Lawn Care robot which will handle yards of 1/4 acre (10,890 sq. feet). For business solutions, we expect the Dandy DTC-101 Commercial Lawn Care robot to ship in Summer 2023.
Technical Specifications
Specification
Quantity
Lawn Size
1.0 acre (43,560 sq. feet)
Maximum Yard Incline
15

°

Charging Type
Plug-in AC/DC adapter
Perimeter Control
GPS-based geofence set up using the free app
Navigation Behavior
Intelligent path planning with a heat map to reduce overlap
Weeds Targeted
Broadleaf weeds, including dandelion, crabgrass, clover, chickweed, etc.
Herbicide Distribution
1.35 Liter reservoir with motorized pump
Speed
Up to 50 feet/minute
Runtime
Up to 5 hours
Connectivity
WiFi connection to your home network
Firmware Update
Over the air, using the app and your home network
Theft Protection
Yes, GPS-based using the free app
Share
View full details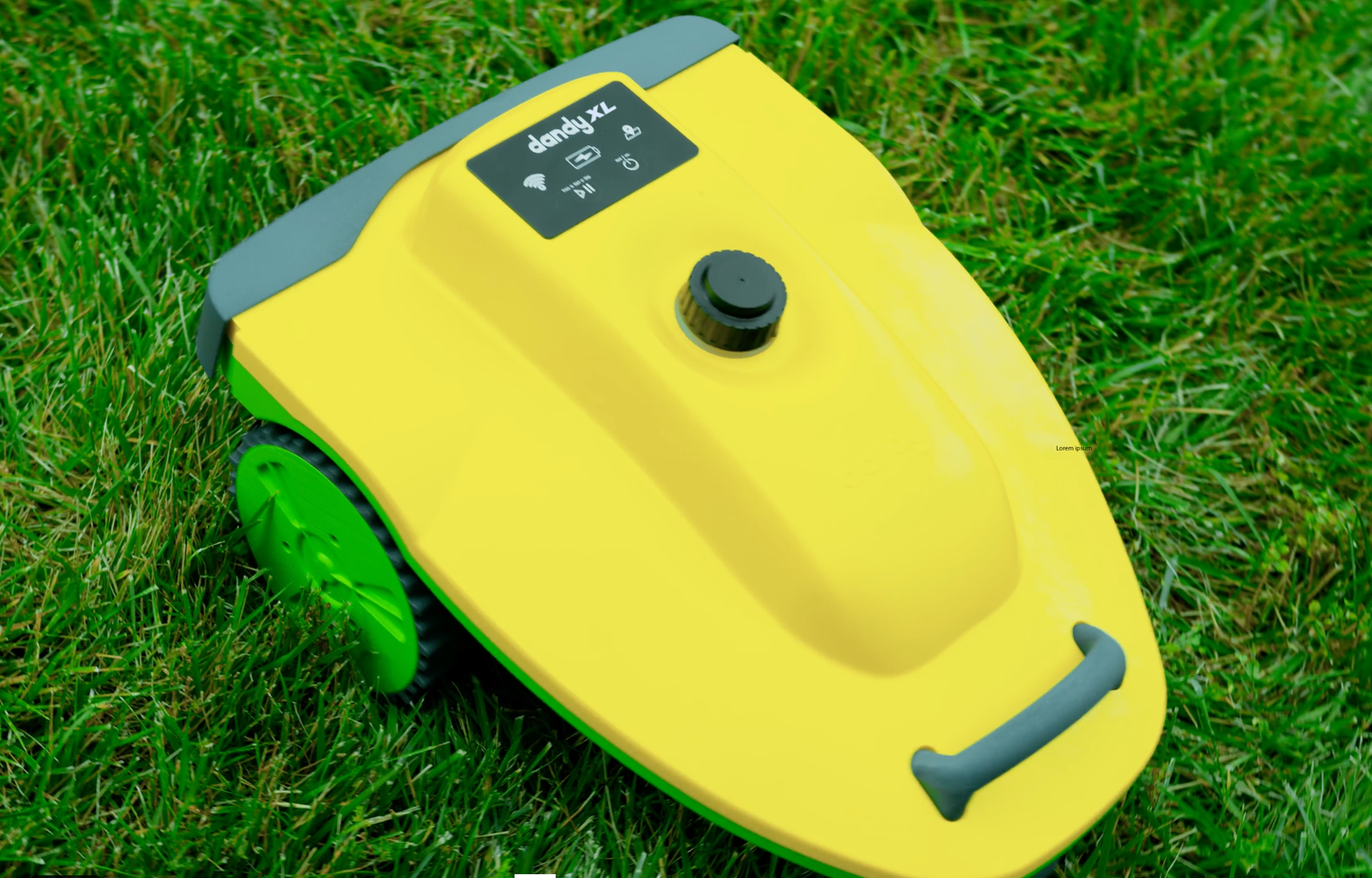 Not great
Sadly, I haven't been impressed with this product, so far. It is difficult to draw the yard borders and no-go zones on the tiny map. I ended up using a tablet and even that didn't prove sufficiently accurate. The first robot I got wouldn't charge. I wasn't able to get support through the normal channels, but I was fortunate enough to have a direct email to an employee that helped start a repair process. Awesome employee, terrible official channels for support. The new robot didn't do a single spray, despite traveling hundreds of feet over dozens of weeds. It would get stuck trying to climb trees that had a gentle enough root slope to not trigger the bumpers. Same issue around various other obstructions. Trying to update the map for these tiny obstructions proved impossible (I can't see a tree trunk through the overhead view of its canopy). Boot times were slow. Connecting was difficult. When I'd move the robot away from an obstruction, it would drive directly back to the same place and get stuck again. A tool for remote controlling the robot around obstructions would be great! Having feedback about why it isn't spraying weeds would also be great! (Is the camera not working, for example?) Overall, I don't think I can recommend this product for any size yard, based on my experience, so far. I'll be trying it out more to give it a fair chance, but I consider it an $800.00 loss, at this point.
Accurate and consistent
I feel like roomba is just sensing like in the moment, move it house to house and it would the same thing. But if its pre-established with the lawn perimeters, that has the potential to be more accurate and consistent.
The perfect lawn
I imagine the perfect lawn being flat and without any weeds, A weed seems to change the landscape and make it less than ideal. Its a hard problem to fix, and its impressive to see something like this. Its a good concept, seems hard to accomplish.